The weekend before last I was browsing in CVS just to see what sales they had going on and I didn't really see much I was interested in but... I did remember I had seen a guru on You tube raving about
Maybelline Dream Matte Powder
. I wanted to try it out because I have problems with my t-zone area looking oily especially in photos. So i grabbed that in my shade Honey (Medium 3-4) and since they were having a BOGO 50% off I bought the
Dream Liquid mousse
as well in the shade Natural Beige (Medium 2.5)
The first liquid foundation I bought turned out to be a little too light for my skin tone especially since I'll probably be getting darker soon due to the weather... so I went back and bought the Honey Beige (Medium 4); they had sold out of this shade at the first CVS I bought from.
Overall I rate the Dream Matte powder 4/5*
It really works great for getting rid of unwanted shine. You can keep reapplying it throughout the day if you care to w/o it looking like you have over powdered. In my experience from using it the last few days it lasts about 6-7 hours when applied.

The liquid foundation also gets 4/5* stars from me
I don't usually reach for liquid foundation when applying my makeup because I feel like it can look heavy very fast on my skin. But this applies very nicely and gives a good coverage without looking like you are wearing it. It is build-able and will of course looks even better when finished with the Dream Matte Powder.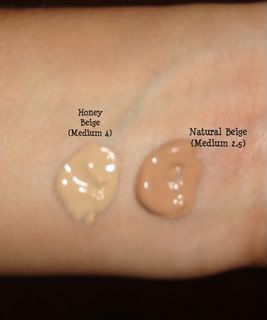 Here are a few swatches of the two colors... I may return the lighter one because I'm not sure I'll be using it. (in reality I'm probably a mix of both of these shades.)