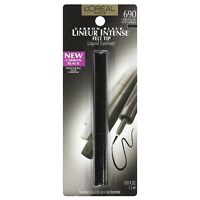 This is hands down the easiest eyeliner applicator I have used thus far, and I have tried many... including brushes and cream liners.
"The cleverly designed applicator of Lineur Intense™ Felt Tip Liquid Eyeliner allows you to create delicately thin or dramatically bold lines with precision. Fragrance-free formula lasts all day up to eight hours."
It does last all day, and also it is supposed to be suitable for contact lens wearers, which is good, because I'm one. I have had a couple of eyeliners I tried in the past that have irritated my eyes for some reason... this one doesn't. It is sooo easy to apply, I'd recommend this to everyone. Especially if you have ever struggled with getting straight lines or points when applying yours. I'm still not a pro, but after practicing with this a little more, I'm sure I will be.. haha. Maybe.

So here I am with the liner on... and CG Lash Blast Mascara *No Falsies*
Today I picked up these cheapo shades from F21... only $5.50, I love the color.. and the gold accent.. my fiance was like why do you always get the really big shades...? ummmm..... they're cute! lol.