Hey ladies,
I have a
small
haul to share with you all. I had a 20 percent off coupon for Ulta, so I here are just a few of the things I got last week. I
didn't
really see too much that I wanted (surprisingly) probably because I have been trying to limit my spending lately. I actually got the HiP cream liners from CVS, they were all on
clearance
for
five dollars each
(yay)! I previously had their black cream liner but it's a few months old so now it's not as creamy as it was before, so I figured why not get a new one while it's on sale... I also picked up the shade "
eggplant
" which I am loving as well.
Here are the two lipsticks I picked up at Ulta; Revlon's
Soft Nude
, and Revlon's
Paparazzi Pink
. I
LOVE
Soft Nude. I urge you to go get this if you are a fan of nude tones. In the past I stayed away from nudes because I felt like they would make my lips look ashy against my tan skin.... but this one is perfect, love it. Paparazzi Pink applies quite sheer, it's not my favorite, but I'll still use it. I think it would be great for anyone who has naturally pink undertones in their lips.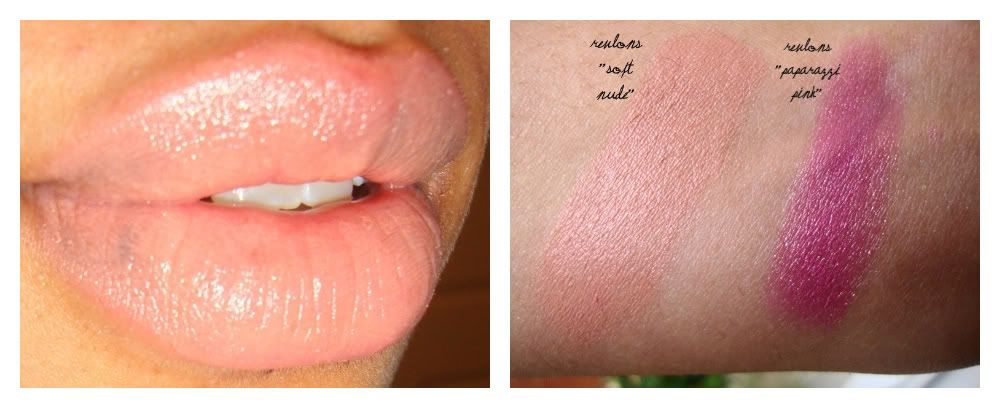 I decided to try a new mascara, for the longest time I have been stuck on Cover Girl Lash Blast. But I saw
Rimmel's Sexy Curves
was cheaper and I liked the packaging so.. .why not,
right
? I
love
this mascara! It really does seem to curl my lashes as well as lengthen and thicken.
A+
from me.
If you have tried these cream liners before, you probably already know how
great
they are. They are
easy
to apply, versatile use, nice
creamy
texture, and there are a variety of shades to chose from! I was hesitant to get the
eggplant
shade because I thought purple? I'm not going to use that much, right? But actually it's such a deep purple (which makes sense when I think of an eggplant)it can be worn for day or night without looking silly.
Well that's all for now!
If you would like to enter my giveaway and haven't already click here!
♥