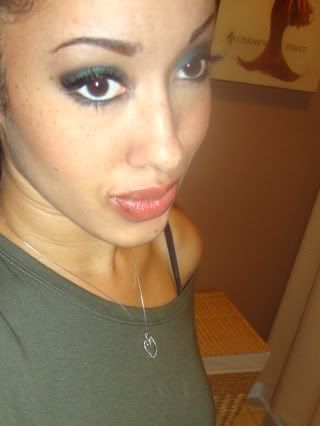 I used my Urban Decay Book of shadows 3 today, I really liked the look I did... i just couldn't get a good shot of it on my camera. (Sony Cybershot 12.1) Does anyone have any camera recommendations? I really want a new one soon.
I used NYX jumbo pencil in slate (midnight blue color) on my lid as a base; then Loaded from the palette on the entire lid; perversion in the crease; uzi in tear duct; and a Milani highlighter; Elf dramatic lashes cut in half.
Revlon Colorstay in Natural tan 330; Revlon Powder; Sunny bronzer on the apples of my cheeks and temples. Milani Brow kit (review on that coming soon!)
Hope everyone is having a great Monday
♥
P.S -- Feel Free to enter my MAC Pink 4 Friday Lipstick giveaway below... if you don't want that color and you are the winner you are free to choose a different shade.